Do you know you can quickly check your UBA bank account balance on your smartphone? This post is about the USSD Code to check your UBA Account balance on your Phone.
Mobile banking in Nigeria is one of the most developed in the world. There is virtually no transaction that can be done from the comfort of your mobile phone. The good thing about this is, you can save yourself from unnecessary stress once you have a mobile phone. You can send money from one bank in Nigeria to another and all bank's USSD codes enable you to send and check your balance.
UBA is one of the best banks in Nigeria when it comes to mobile banking or internet banking. With the USSD code, you can easily check your UBA account balance on your phone.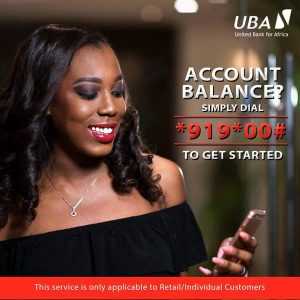 The use of USSD code to check UBA bank account balance on a mobile phone has really made mobile banking very easier and many banks now have mobile banking apps that even make internet banking less stressful. This means you don't have to queue at the ATM points to check your bank account balance, you can now do the same in the comfort of your mobile phone. So let's go straight to how you can check your UBA account balance on your mobile phone.
How to Check UBA Account Balance on Mobile Phone
For all UBA customers, this is how to check the UBA account balance. Dial *919*00# on your mobile phone and follow the on-screen prompts, your UBA account balance will display on your phone. If no problem from both party, you should receive your account balance on your phone if there is no network problem
Take note of this, you must use the phone number that you registered when opening your UBA account. Sending the balance inquiry message with any other phone number will not work.
Explained Above is the USSD Code to check the UBA Account balance on mobile phone
Read More on Bank Money Transfer USSD Service